(UPDATE 7/21/2013) Sure enough, both Taro Yamamoto and Japanese Communist Party won big in the election. See my new post.

==========================

The media has been hammering the idea for the past two weeks that the voter turnout will be a record low this time.

As many as 16,958 out of the total 48,777 voting stations in the country, or 35% of the voting stations, will close earlier than mandated by the law.


The crowd for the existing, mainstream parties (LDP, DPJ, Komei) did seem low during the election campaign. So much so that to sum up the election coverage, Kyodo News used the aerial photo of a large crowd outside the Shinjuku Station in Tokyo without naming the campaigner. The Kyodo article was mostly about LDP and Abe's promise. You would think the crowd was Abe's crowd.

Well, the photo turned out to be not LDP, DPJ, Komei, or Boy-wonder's dwindling party, but Japanese Communist Party.

From the tweet of JCP Chairman Kazuo Shii, who says 3,500 people stopped to listen to his party's last appeal: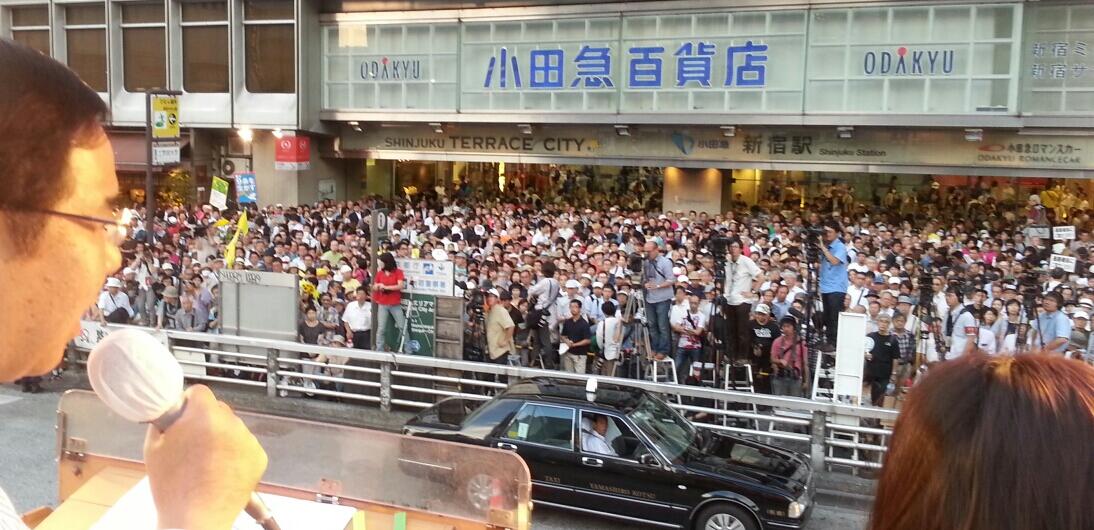 There were many on Kyodo's site and on Twitter claiming it was the crowd for Taro Yamamoto. I retweeted one of such tweets, then my eyes got fixated with the three characters (小田急) in the upper left corner of the Kyodo photo. That's Odakyu Department Store, and that means the exit is Shinjuku West. After quick search I noticed that could only be JPC, and it was.

Asahi had this aerial photo of an even bigger crowd in Shibuya. Whose campaign was this? Taro Yamamoto and Yohei Miyake. But following Kyodo, Asahi didn't bother telling the readers whose campaign it was that attracted what Professor Yukio Hayakawa described as 10,000-strong crowd (Professor Hayakawa was right there in the crowd, according to his own tweet, and he says there were more people across the street):

(Image of Asahi Shinbun paper, from Professor Hayakawa's tweet)