Embalming the dead is so unlike Japanese, and maybe that's why I find this endeavor by Rikuzen Takata City officials strange.

The tree, before it was cut down, looked like this.

I wrote about this pine tree in Iwate Prefecture that survived the tsunami of March 11, 2011 but died later as the result, and the 150 million yen restoration project by hollowing out the tree and embalming it with resins so that they could put the tree back where it had been standing, as the beacon of hope for the city residents. (They don't have the money, by the way. They are still waiting for your donation.)

NHK reports (2/12/2/13) the first segment of the embalmed, dead tree has been installed on a concrete base:

陸前高田市の奇跡の一本松は、7万本の松が立ち並んでいた「高田松原」で津波に耐えて唯一残りましたが、その後、枯れていることが分かり、モニュメントとして保存するため去年9月に切り倒されました。

The miracle lone pine of Rikuzen Takata City was the only pine tree that survived the tsunami in Takata Matsubara that had had 70,000 pine trees, but it was later found to have been dead. In order to preserve it as a monument, it was cut down in September last year.

復元に向け、県外の工場で芯をくりぬきカーボン製の棒を通すなどの保存処理が行われていましたが、12日から、処理が終わった幹を元の場所に戻す作業が本格的に始まりました。

To restore the tree, the core was removed from the tree and replaced by carbon rod in a factory outside the prefecture. On February 12, the work to place the treated trunk back to where the tree had been standing started in earnest.






12日は、午前9時半から高さ4.5メートルほどある幹の根元部分の設置作業が始まり、幹をクレーン車でつり上げたあと、コンクリートの土台に慎重にはめ込んでいきました。

Installation of the bottom part of the trunk, about 4.5 meters in length, started at about 9:30AM on February 13. It was lifted by a crane, and the workers carefully placed it in the concrete foundation.

作業の様子を見守った、地元の保存会「高田松原を守る会」の鈴木善久会長は「一本松が人工のモニュメントになって帰ってきたのを見ると、少し複雑な気持ちがします。被災者に勇気や希望を与える存在になってほしい」と話していました。

Yoshihisa Suzuki, chairman of the local "Takata Matsubara preservation association", said, "To see the lone pine return as an artificial monument, I have a mixed feeling. But I want it to give courage and hope to the disaster victims."

奇跡の一本松は来月、幹の残りの部分と特殊な樹脂で再現した枝葉をつなぐ作業が行われ、震災発生から2年になる来月11日までには元どおりの姿に復元される予定です。

Next month, the work will be done to connect the remaining trunk and branches and leaves that are recreated using special resins. By the second anniversary of the disaster on March 11, the tree will be restored to its original form.
After nearly two years, Rikuzen Takata still look like this, and the residents want to embalm a pine tree to give them hope. Photos are from this blog, as of December 2, 2012, as the author of the blog visited Rikuzen Takata.




Disaster debris mountain: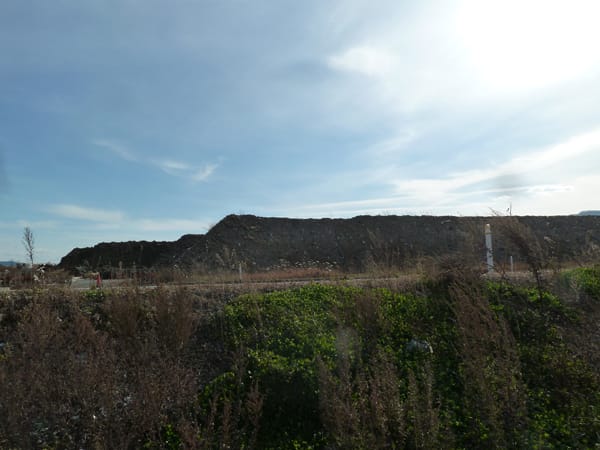 Civic Hall, before the March 11, 2011 tsunami:




Civic Hall, today:


The blog author asks, "What has the government been doing? What have we been doing since March 11, 2011, to leave the city like this?"

The answer is that no one wants to see the reality. (So let's embalm the pine tree.)