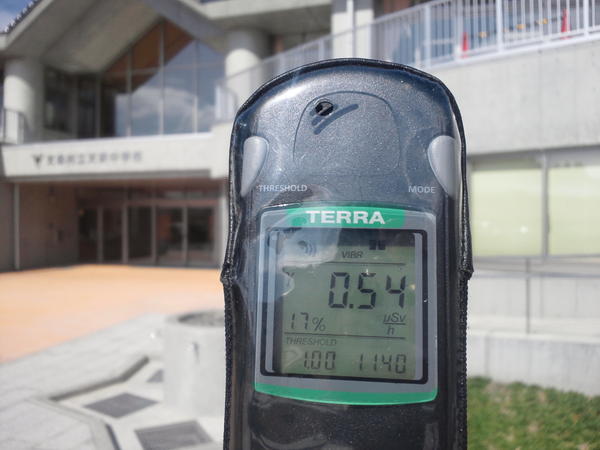 A Japanese independent journalist posted this photo on his tweet. It is an air dose measurement of 0.54 microsievert/hour in front of a junior high school in a village in Fukushima Prefecture, and the village name is Tenei-mura (pronunciation: ten'ei).

Remember that before the Fukushima nuclear accident, the average air dose rate in Fukushima Prefecture was one order of magnitude lower.

Now, why did this particular tweet catch my attention? Well that village was one of the locations where the high school students from the US were sent, as part of the "Kizuna" project by the Japanese and the US government to show support and solidarity with the "victims" of the disaster and to spread the correct information about recovery and decontamination effort by the Japanese government by having young people from the US visit Fukushima.

Remember those high school students, who followed the footsteps of the students from Middle Tennessee State University?

The original meaning of 'Kizuna' is "a tie that binds a domestic animal so that it can't escape".

From Fukushima-net.com (no date, but assumed to be in July 2012; part):

米国の高校生が被災地を訪問 天栄などで「キズナ強化プロジェクト」

US high school students visit disaster-affected areas, part of "Project to strengthen 'Kizuna'" in Ten'ei

東日本大震災の復興支援のため、アメリカの高校生たちが10日から天栄村などを訪れ、地元の人たちと交流を深めている。

High school students from the US have been visiting places [in Fukushima] including Ten'ei-mura starting July 10, interacting with the locals to support the recovery from the March 11, 2011 disaster.

外務省の委託事業で、日本国際協力センターが実施する「キズナ強化プロジェクト」の一環。アメリカの高校生が被災した宮城、岩手、福島、茨城の4県を訪れ、復興状況などを視察している。

It is part of the "Project to strengthen Kizuna", which is commissioned by the Ministry of Foreign Affairs and carried out by the Japan International Cooperation Center. Under the project, high school students from the US are visiting the disaster-affected Miyagi, Iwate, Fukushima and Ibaraki Prefectures and observing the progress of the recovery efforts.

本県は天栄村ふるさと子ども夢学校推進協議会が受け入れ先となり、10日から13日までの日程で実施。

In our Prefecture [Fukushima], a council of Ten'ei-mura is organizing the event from July 10 to 13.

アメリカの4つの高校で日本語を学んでいる学生と教師約110人が来日している。

110 students and their teachers from 4 US high schools are in [Fukushima]. The students are learning Japanese at their high schools.

... 12日は長沼高、岩瀬農業高を訪れ、日本の高校生との交流を図るほか、天栄村の職員から村内の畑の除染活動について説明を受ける予定。






On July 12, they are scheduled to visit the local high schools to interact with the Japanese high school students [there], and to be briefed by the village officials on the progress of decontaminating the farm lands in the village.

今回のプロジェクトは、アメリカの学生に被災地の復興状況を見てもらい、除染への取り組みを海外に発信してもらおうという狙い。

The aim of this project is to have the US students see the recovery of the disaster-affected area, and have them spread information on the decontamination effort.
The site has a photograph of students wearing "Kizuna" T-shirts and eating "mochi".

Ten'ei-mura is located along the corridor in the middle of Fukushima where the radioactive cloud passed through, between Sukagawa and Shirakawa. Professor Hayakawa's Radiation Contour Map (ver.7) has Ten'ei-mura inside 0.5 microsievert/hour, with a significant chunk of it inside 1 microsievert/hour.