(UPDATE 6/10/2013) And he disappears. I hope it is his intention to disappear, not someone having him "disappear".

==========================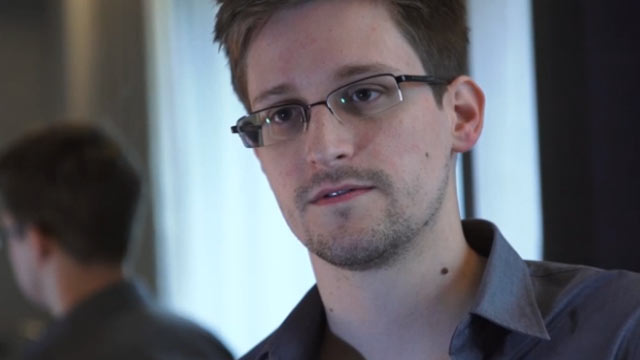 "My name is Ed Snowden, I am 29 years old. I work for Booz Allen Hamilton as an infrastructure analyst for NSA in Hawaii."

Before that, he says he worked for the Central Intelligence Agency.

The Guardian has a video of the interview by Glenn Greenwald and Ewen MacAskill in Hong Kong, and part of the interview is written up as an article.

It is at Mr. Snowden's request that the paper is revealing his identity.

From The Guardian (6/9/2013; part):

NSA whistleblower Edward Snowden: 'I do not expect to see home again'

Source for the Guardian's NSA files on why he carried out the biggest intelligence leak in a generation – and what comes next

Ewen MacAskill

Q: Why did you decide to become a whistleblower?

A: "The NSA has built an infrastructure that allows it to intercept almost everything. With this capability, the vast majority of human communications are automatically ingested without targeting. If I wanted to see your emails or your wife's phone, all I have to do is use intercepts. I can get your emails, passwords, phone records, credit cards.

"I don't want to live in a society that does these sort of things … I do not want to live in a world where everything I do and say is recorded. That is not something I am willing to support or live under."

Q: Do you think what you have done is a crime?

A: "We have seen enough criminality on the part of government. It is hypocritical to make this allegation against me. They have narrowed the public sphere of influence."

Q: What do you think is going to happen to you?

A: "Nothing good."

Q: What do the leaked documents reveal?

A: "That the NSA routinely lies in response to congressional inquiries about the scope of surveillance in America. I believe that when [senator Ron] Wyden and [senator Mark] Udall asked about the scale of this, they [the NSA] said it did not have the tools to provide an answer. We do have the tools and I have maps showing where people have been scrutinised most. We collect more digital communications from America than we do from the Russians."

Q: Is it possible to put security in place to protect against state surveillance?

A: "You are not even aware of what is possible. The extent of their capabilities is horrifying. We can plant bugs in machines. Once you go on the network, I can identify your machine. You will never be safe whatever protections you put in place."

(Interview video and full article at the link)
In another article about the interview, Mr. Snowden says:

"All my options are bad," he said. The US could begin extradition proceedings against him, a potentially problematic, lengthy and unpredictable course for Washington. Or the Chinese government might whisk him away for questioning, viewing him as a useful source of information. Or he might end up being grabbed and bundled into a plane bound for US territory.

"Yes, I could be rendered by the CIA. I could have people come after me. Or any of the third-party partners. They work closely with a number of other nations. Or they could pay off the Triads. Any of their agents or assets," he said.

"We have got a CIA station just up the road – the consulate here in Hong Kong – and I am sure they are going to be busy for the next week. And that is a concern I will live with for the rest of my life, however long that happens to be."

Having watched the Obama administration prosecute whistleblowers at a historically unprecedented rate, he fully expects the US government to attempt to use all its weight to punish him. "I am not afraid," he said calmly, "because this is the choice I've made."

He predicts the government will launch an investigation and "say I have broken the Espionage Act and helped our enemies, but that can be used against anyone who points out how massive and invasive the system has become".
And this from Zero Hedge:

We would like to thank Snowden for putting a nail into the coffin of all those who use the term "conspiracy theorist" pejoratively. Because whatever his motives, whatever the outcome of this dramatic escalation between the people's right to know and a government intent on hijacking all civil liberties one by one, Snowden has showed that the distance from Conspiracy Theory to Conspiracy Fact is just one ethical judgment away.