(UPDATE-3) It looks like Typhoon No.18 will miss Fukushima I Nuke Plant. It is expected to pass south of Koriyama City and continue its north-eastern path.

(UPDATE-2) 100 millimeters/hour rain in Shizuoka and Aichi Prefectures. Tornado warning in Kanagawa Prefecture. Heavy rain and wind to intensify in Kanto and Tohoku in the afternoon of 9/16/2013.

(UPDATE) According to NHK, Kyoto City issued an order to evacuate to 146,000 residents in the four Special Wards (Minami, Ukyo, Nishikyo, Fushimi) at 8AM, September 16, 2013.

==========================

Fukushima on course afterwards, it looks.

From Japan Meteorological Agency, as of 6AM, September 16, 2013:

(Click to enlarge)


NHK reports that Kyoto City government has issued "recommendation to evacuate" to more than 40,000 people in one Ward alone (Fushimi Ward) in Kyoto City.

This is Uji River in Kyoto, from a tweet about 45 minutes ago: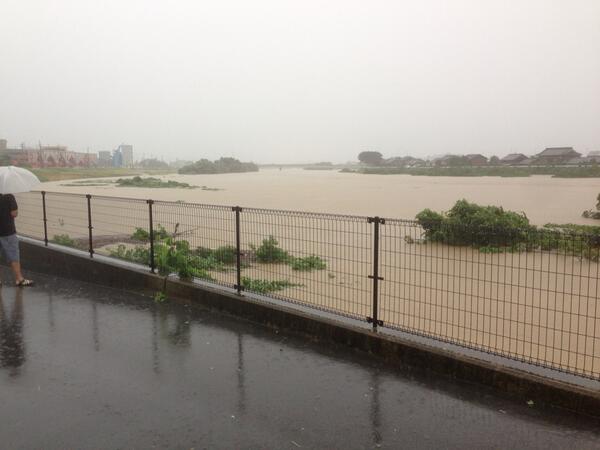 Even before the typhoon lands, Kanto Region and southern Tohoku have been experiencing heavy wind and rain since September 15.

At Fukushima I Nuclear Power Plant, the rainwater that had rapidly accumulated inside the 30-centimeter-high barrier around the RO waste water tanks went over the barrier in the afternoon of September 15. TEPCO is examining the water to see if it contains radioactive materials, according to Jiji Tsushin (9/15/2013).