From the beginning of the news of this leak, scientifically-minded people that I follow on Twitter have been talking about the difference in the amount of waste water that is supposed to be in each pond and the amount the same water in each pond as measured by TEPCO every day since the first news of the leak, with spreadsheets and charts. Now the MSM is finally getting wiser.

TEPCO's reassurance is that it is within the tolerance of the measuring equipment.

From Kyodo News (4/18/2013):

福島原発、汚染水6百トン消える 東電は大量漏えいを否定

600 tonnes of contaminated water disappeared from Fukushima I Nuke Plant, but TEPCO denies massive leak

東京電力福島第1原発の地下貯水槽から放射性物質に汚染された水が相次いで漏れた問題で、東電は地下貯水槽にあった汚染水の総量を現在約2万3千トンとしているが、漏えいを最初に確認した直後に示した総量は約2万3600トンだった。約600トンがどこかに消えたことになるが、東電は「計測機器の誤差の範囲」と説明している。

Waste water highly contaminated with radioactive materials has leaked from the in-the-ground water storage ponds at Fukushima I Nuclear Power Plant. TEPCO currently puts the total amount of waste water that was stored in the ponds at 23,000 tonnes. However, the amount was 23,600 tonnes when TEPCO announced the first leak. 600 tonnes of water seems to be missing, but TEPCO says "It is within the tolerance of the measuring equipment."

どこかの貯水槽から大量に水が流出した可能性はないのか。東電は「外部に流出した明確な兆候はない」と、大量漏えいを否定している。

Isn't there a possibility that a large amount of water leaked from one of the ponds? TEPCO says "There is no clear sign of water having leaked outside", and denies there has been a massive leak.
One of the people I follow (Kontan_Bigcat) on Twitter has been saying the leak may be as much as 460 tonnes as of April 9, with 130 terabequerels of all beta. From his tweet on April 9, 2013: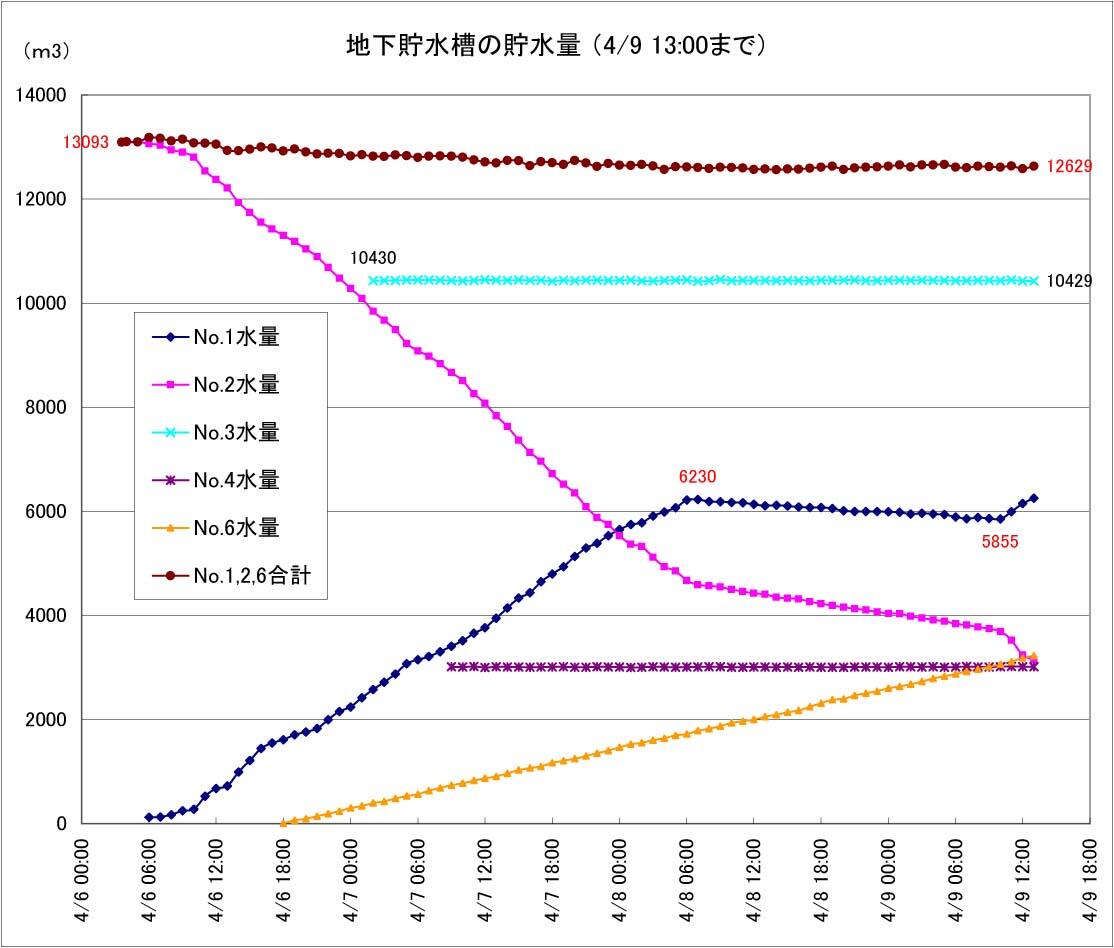 The top brown line is the total of the Ponds 1, 2 and 6, which was 13,093 tonnes on April 6 but 12,629 on April 9.