In my effort to distract myself from my temporary but extremely uncomfortable illness, I read news. What do I find? New RO waste water leak spots at Fukushima I Nuclear Power Plant and extremely sloppy reporting in Japan and elsewhere. Good to know nothing has changed in the past five days of my absence.

Here's a typical coverage of the news on the new leak(s) of Reverse Osmosis waste water from tanks made of metal sheets held together by rivets, rubber packing and epoxy sealant, from Jiji Tsushin (9/1/2013):

タンク4カ所で高線量=最高毎時1800ミリシーベルト-福島第1汚染水漏れ・東電

4 locations in the tank [area] found with high radiation, maximum 1,800 millisieverts/hour, says TEPCO

東京電力福島第1原発で放射能汚染水を保管しているタンクから水漏れがあった問題で、東電は31日、同原発敷地内の同型タンク群4カ所で高線量を確認したと発表した。このうち2カ所についてはこれまでに高い線量が確認されていた場所だが、さらに値が上昇し、最大毎時約1800ミリシーベルトだった。4時間浴び続ければ死亡する線量に当たる。

Regarding the water leak from the tank that stores contaminated water at Fukushima I Nuclear Power Plant, TEPCO announced on August 31 that there are four locations with high radiation levels in the different areas where the same type of tanks are used. At two of the four locations, high radiation levels were detected before, but now the levels have gone up, with the maximum level of 1,800 millisieverts/hour. If one is exposed to this dose level for four hours continuously, one would die.

残りの2カ所は今回新たに判明。東電担当者は「4カ所とも汚染水が漏れている可能性は否定できない」としている。

The other two locations are new locations revealed this time. TEPCO says they "cannot deny the possibility of contaminated water leak at all four locations".

接合部にゴム製のパッキンが使われている同原発内の同型約350基の安全性に対する懸念がさらに高まるのは確実。汚染水の保管は危機的状況が続いている。

There are about 350 tanks of the same type that uses rubber packing in the joints. The safety concerns for these tanks will no doubt increase. A crisis situation continues in contaminated water storage.

So what's wrong with this news, other than the fact that RO waste water leak is found at new locations and Jiji doesn't bother to tell the readers it is about RO waste water?

It's "1,800 millisievert/hour radiation that would kill one in 4 hours of exposure".

After nearly two and a half years of attending TEPCO's press conference, reporters in Japan seem almost willful these days to pretend they don't even know the difference between gamma radiation exposure and beta radiation exposure to make their news more sensational in competition with the foreign media and blogs. They seem to pretend not to know what dose equivalent is.

1,800 millisieverts/hour is "dose equivalent at 70 micrometer", to show the beta radiation exposure at very close proximity for particular organs - skin, and eye lens. Press releases and handouts for the press from TEPCO make it clear that it is dose equivalent, and they say so during the press conference. (Here's the English email alert to the press on finding the spot with 1,800 mSv/hr beta radiation, from August 31, 2013.)

The "1,800 millisieverts/hour that would kill a person in 4 hours" would be gamma radiation.

In this case, RO waste water is extremely high in beta nuclides including strontium but not so much at all in gamma nuclides. You wouldn't die just by being near this water for four hours.

1,800 millisieverts/hour dose equivalent for skin would be 18 millisieverts/hour effective dose, as tissue weighing factor for skin is 0.01.

TEPCO uses Ionization Chamber Type Survey Meters.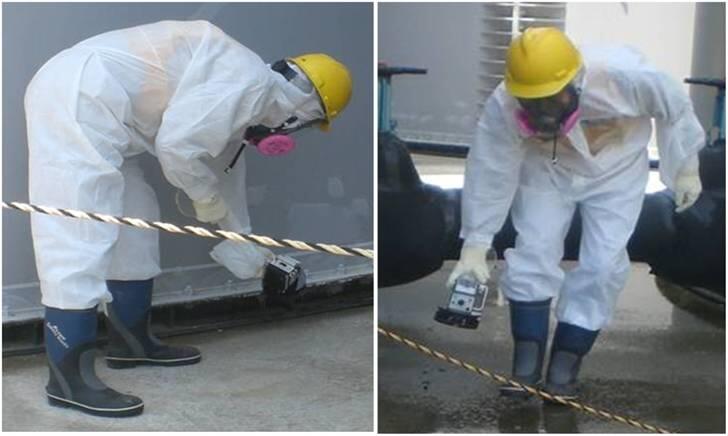 According to TEPCO, 1,800 millisieverts/hour dose equivalent at 70 micrometer is almost all beta radiation, with only 1 millisievert/hour dose equivalent (at 1 centimeter) of gamma radiation.

Almost all Japanese media (except one article at Asahi) glossed over the fact that this "1,800 millisieverts/hour" was dose equivalent to indicate the effect on skin, and they all screamed "it would kill people in 4 hours".

Many Japanese readers (I sure hope not most) continue to trust what the media says about Fukushima I Nuke Plant as long as it is bad and catastrophic. Some of them immediately started to tweet and retweet, "Japan is finished, we all die!". Judging from retweets of my tweet about the type of contamination of this particular water, they may not even know that the water that leaked had high beta but not much gamma nuclides.

1,800 millisieverts/hour dose equivalent is still very high, as the annual limit for equivalent dose for skin is 500 millisieverts. The same for lens is 300 millisieverts.

But to purposefully omit "dose equivalent" information from the original information from TEPCO and add sensational claim of killing one in four hours of exposure is another low for the media.

It is amazing reporting, actually, considering many reporters who attend the TEPCO press conference are quite knowledgeable and ask tough questions. What would be the point of bothering to attend the press conference, if they end up writing sloppy, loose articles like the ones they've written?